Ordering is easy.
Email sales@reloading.org.uk telling me what you want, I will reply giving you the total price and payment options.
ZipWire Rifle Cleaning Kit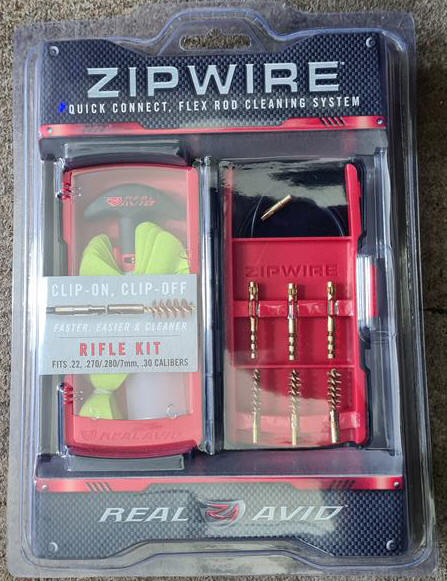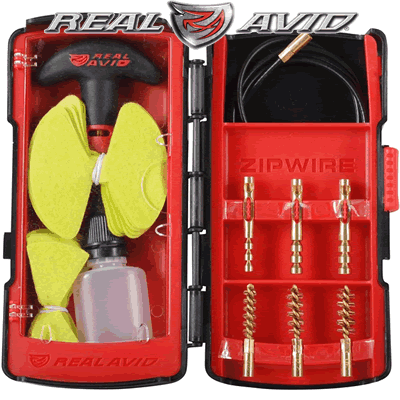 With the Real Avid ZipWire Flex Rod Gun Cleaning Kit, no longer is cleaning your firearms a messy, difficult task. This Real Avid cleaning tool is designed to pull debris toward and out of the muzzle, instead of pushing already-used patches and brushes across the top of lands and grooves. This is much more efficient and effective than traditional methods because the cleaning attachments rotate with the rifling of your firearm. This kit includes a compact, 360-degree rotating T-handle for pulling the brushes and patches through the barrel, slotted jags that provide a more uniform solvent application, and bronze-phosphor bore brushes designed to power through the most stubborn carbon fouling. All of these high quality cleaning implements come packaged in a compact, rugged case that is convenient to take wherever you go. £20.00

Technical Information
• For calibers .22 through .30
• Comprehensive gun cleaning kit by Real Avid
• Premium-grade cleaning components with everything you need to clean your firearm
• Pulls debris toward the muzzle instead of deeper into your firearm
• Includes compact, 360° rotating T-handle
• Slotted jags give you a more uniform application of oil and solvents
• Brushes utilize bronze-phosphor bristles to improve cleaning power
• Comes with ZipBrushes, ZipJags, ZipPatches, and more
• Components pack away into a rugged, compact case for easy access and transportation
Bore type snake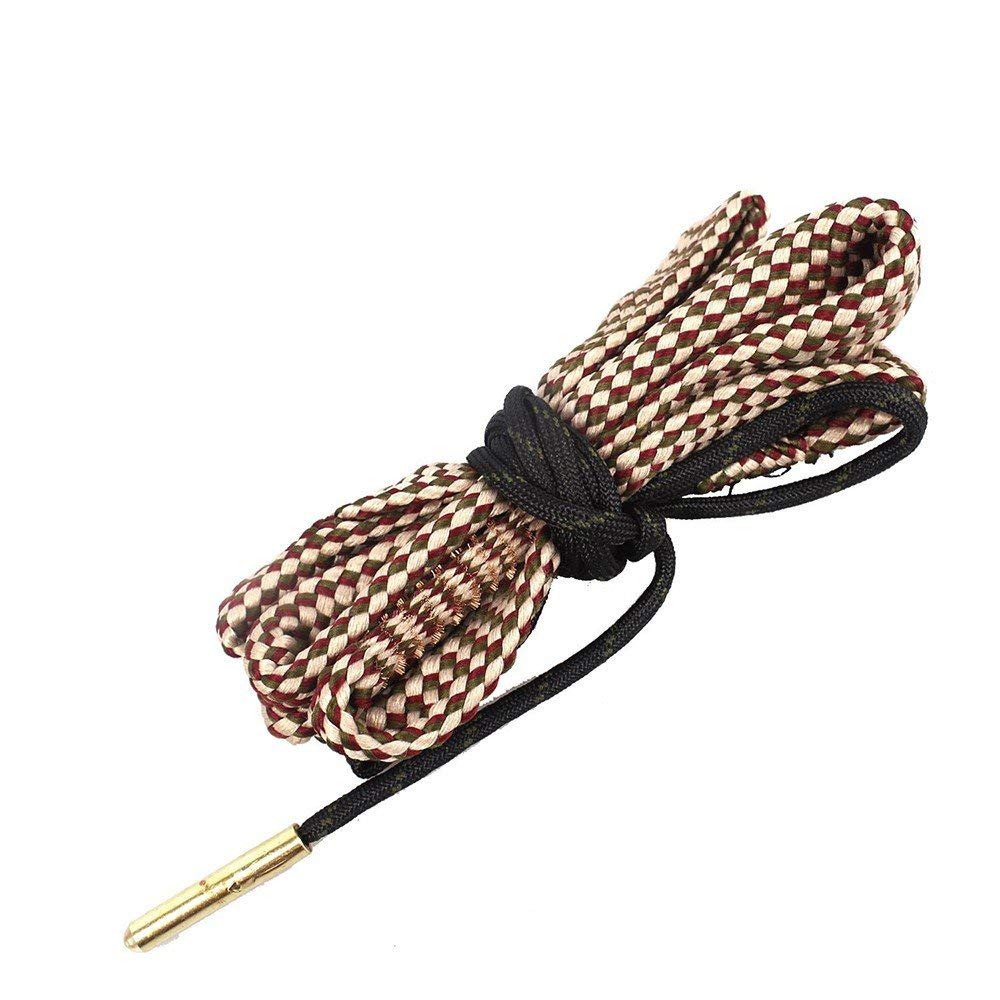 Fastest Gun Bore Cleaner, cleans gun bores in 10 seconds available in 30/308/300win mag etc, 338 , 38/357, 44/45
Designated lubrication zone on the handle; brass weight on the pull cord is stamped with size
Multiple Bronze short brushes embedded in the floss pass easily through the shortest action or port
The bore cleaner is washable, one-piece design, lightweight and compact, it's easy to take to even the most remote hunting destination £5.00
One Piece Rod .270 or above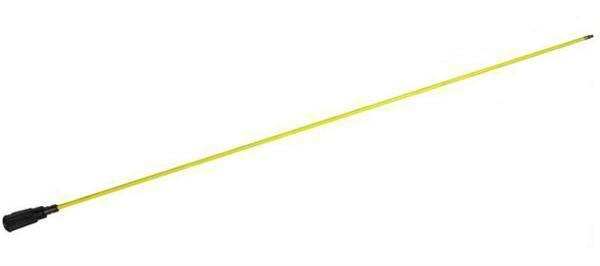 Length for cal .270 or above fits Parker Hale / Bisley jags brushes mops etc. Special hardened and tempered steel core. Ball bearing handle. Brass fittings. Tough acetate protective covering to prevent barrel abrasion. . £20.00
One Piece Rod Length 44 .22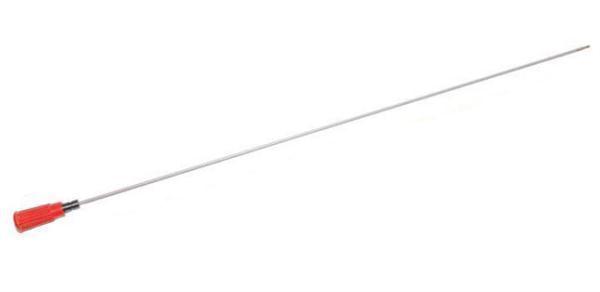 One Piece Rod Length .22 Parker Hale Bisley. Special hardened and tempered steel core. Ball bearing handle. Brass fittings. Tough acetate protective covering to prevent barrel abrasion. . £20.00
Universal Rifle Bore Guide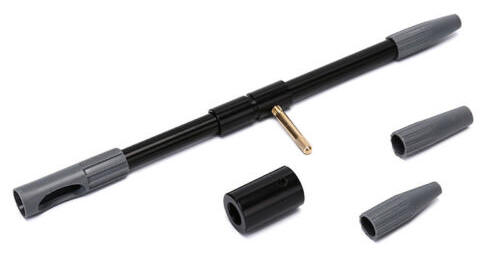 Universal Bore Guide offers an easier and safer clean by aiding in the alignment of your cleaning rod with the barrel of your firearm. Proper rod alignment prevents bowing and bending which can damage your bore. The built-in solvent port reduces the chance of spilling and wasting solvent which could ruin the finish of your firearm. This Universal Bore Guide includes a collar designed for MSR/AR style rifles which creates a tighter fit and additional support of the upper receiver while cleaning your firearm. £8.00
For brushes, jags and mops .45 cal and above look under the Black powder section
Phospher Bronze Brush .22 .240 .30 .35 .45

Available in .22 .240 .30 .35 .45 Parker Hale / Bisley fitting £6.00 Each
Brass Jags .22 .240 .30 .35

Available in .22 .240 .30 .35 Parker Hale / Bisley fitting £6.00 Each
Mops .22 .240 .30 .35

Available in .22 .240 .30 .35 Parker Hale / Bisley fitting £6.00 Each
*
Adaptors for the Cleaning rod attachments
I have a stock of adaptors that will allow the yellow parker hale cleaning rod attachments to fit most other rods and vice versa.You would need to supply details of the thread you have on your ram/cleaning rod and weather its a male or female thread.
Most rods are either American 10-32 or 8-32 or Parker Hale rods which are colour codes. I do not have any adaptors for the Grey Parker Hale type rods. Please make sure you order correctly we are happy to exchange or refund if you give the wrong details, however we will not refund the postage or send out a replacement postage free. £10.00
Pro-Shot Premium Stainless Micro-Polished Gun Cleaning Rods.

Note that rod purchases include patch holder/brass jag only, not the muzzle guard or rod stop pictured above. various lengths available

Pro-Shot Cleaning Rods are manufactured by Pro-Shot with American Made exclusive spec Stainless Steel and have a proprietary mirror like jewelled finish. A Pro-Shot rod is more dense and hardened due to added steps in our rod manufacturing processes. I stock rods in calibres .22, .22-.27. .30, 338. It is still slightly less hard than barrel steel. prices from £37.00
Pro-Shot or Pro-Shot style Brass Jags .22, .25/6.5, .30, .338, .35
Some Pro-shot or Pro-Shot style Eraser tip Jags in stock for the same price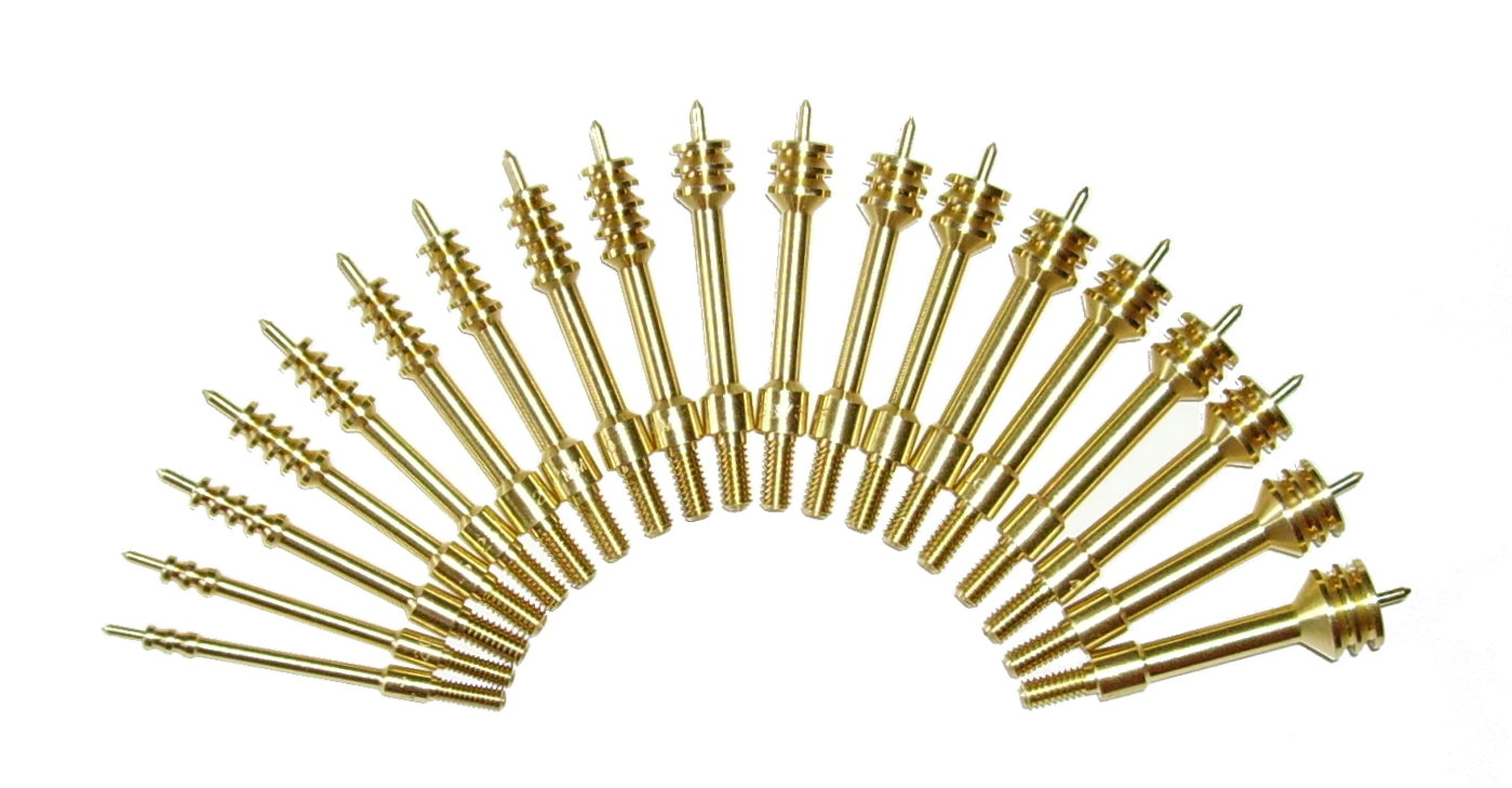 £6.00 each
Pro-Shot or Pro-Shot style Bronze Brushes .22, .25/6.5, .30, .338, .35

£6.00 each
Pro-Shot or Pro-Shot style Nylon Brushes .22, .25/6.5, .30, .338, .35

£6.00 each
Pro-Shot or Pro-Shot style Mops .22, .25/6.5, .30, .338, .35

£6.00 each
Boxed Shotgun Cleaning Kit 12g.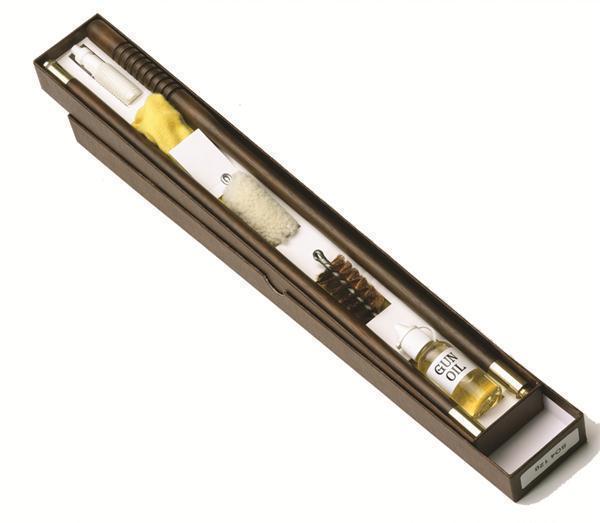 Two piece wooden rod, 1 x phosphor bronze brush, 1 x mop, 1 x gun oil and cleaning cloth. Supplied in a cardboard box. £24.00
Wood Shotgun Cleaning Kit 12g.

Two piece shotgun cleaning rod of varnished wood. Supplied with mop and phospher bronze brush. Parker Hale thread. Exceptional value for money. £10.00
Set of 3 Shotgun Cleaning Brushes 12g.
Set of 3 shotgun brushes supplied on a blister pack. 1 x pure wool mop, 1 x bristle brush and 1 x phospher bronze brush. Parker Hale thread. £4.50
Split Brass Shotgun Jag 12g.

Parker Hale thread. £8.00
Four by two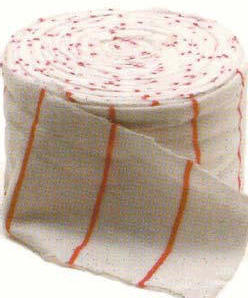 25 yards of 4 X 2 £7.00
Cleaning Patches
Some precut patches in various sizes, mostly proshot. A few bags of the more popular sizes kept in stock.
Iosso Bore Cleaner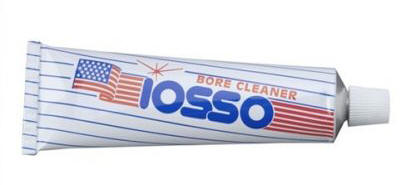 NEW BIO-Based Formula. Highly effective concentrated paste formula that lasts longer and takes less time to clean with than ordinary liquid or aerosol type cleaners. Because it is a paste it cannot spill or run into wood stocks, grips or mechanisms causing chemical damage. Iosso Bore Cleaner removes copper, lead, carbon burn, powder fouling, plastic wad residue, and surface rust. It is non-corrosive, non-flammable and has no offensive odours or mists. Use with the Eliminator Brushes and Eliminator Triple Action Oil Solution for complete cleaning. This bio-based formula is made from plant extracts keeping our environment healthy. 1.5 oz £13.00
I
osso
Eliminator Triple Action Oil
Cleans, lubricates, and protects firearms. As a cleaner, it penetrates deep to loosen powder, carbon, and plastic wad from barrels and bores. Excellent lubricant for action parts, with superb anticorrosion properties that thoroughly protect metal after cleaning. Biodegradable solution made from plant extracts does not contain petroleum or ammonia. Works in harsh conditions down to -74 F (65 F). Won't freeze or dissipate in hot climates. £16.00
Iosso Eliminator Brushes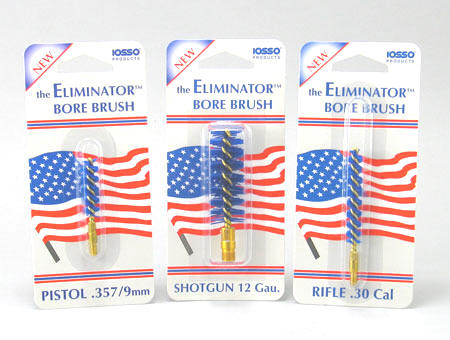 Tough, long-lasting bore brushes thoroughly clean handguns, rifles and shotguns. Distinctive blue Nyflex bristles flex more than bronze, letting you scrub back and forth without fear of getting the brush stuck in the bore. Easily scrubs out all types of fouling, and the brass wire brush core won't scratch the bore. Handgun and rifle brushes have 8-32 male threads. £6.00
Available in .22, .30, .338 calibre
Butch's Bore Shine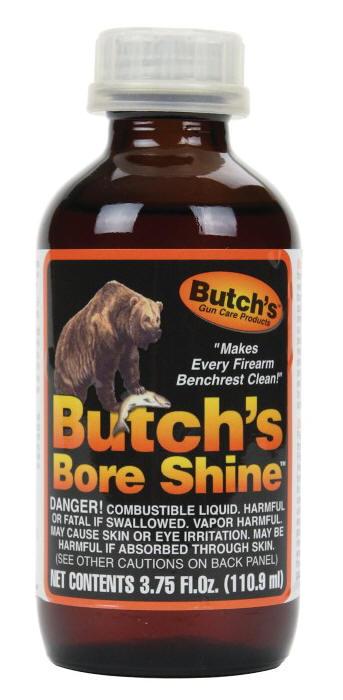 Designed by well known bench rest competitor Butch Fisher, this non-abrasive chemical solvent is specifically designed to remove all forms of bore fouling including copper with an absolute minimum of effort and no damage. It will quickly remove carbon build-up, even in difficult to clean areas like the chamber throat. It also removes lead, wax and even plastic shotgun wad build up.

A significant improvement over conventional solvents, Butch's can also control the copper fouling by pushing a few patches soaked with Butch's prior to shooting. Butch's is safe to use on normal and stainless barrels. It is a true "All in One" Cleaner. £12.00
Gunslick Ultra Klenz Copper Solvent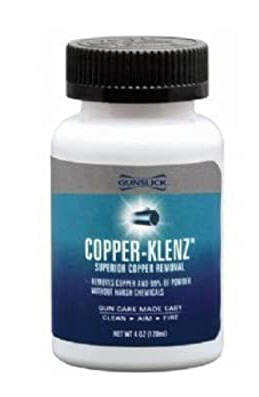 Ultra-Klenz® is a versatile, top of the line gun cleaner that removes 99% of powder fouling, removes copper and loosens lead deposits. In addition, it leaves a light layer of lubrication and corrosion protection.Comes in a 4oz wide mouthed bottle.£10.00
Wipe Out - Patch Out (Liquid)

No-Brush, Foam Cleans Fast
Liquid bore cleaner quickly loosens carbon, copper, brass, bronze, black powder, and smokeless powder fouling, so it can wiped out of the bore fast and easily. Simply apply with a patch to the bore surface and allow to soak, or scrub in with a bore brush to create a foaming action that attacks stubborn fouling. Spout applicator puts the preferred amount of cleaner right where you want it without waste. Contains strong corrosion inhibitors to reduce the need for protective oil. Will remove some stock finishes. £20.00
TACTICAL ADVANTAGE (Liquid)

TACTICAL ADVANTAGE – A liquid that performs an identical role to Patch-Out but with ingredients specifically designed for cleaning Muzzle Brakes, Moderators and Gas Port Ways. Carbon, powder and copper fouling removal in one solution. £21.00
Wipe Out - Foam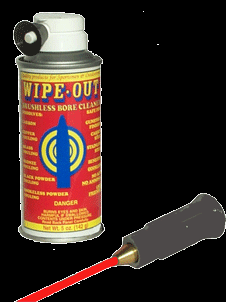 Brushless aerosol (foam) bore cleaning is an easy alternative to brushing and patching with a cleaning rod. Wipe-Out foam will remove copper fouling, carbon fouling, powder fouling, corrosives and moly build-up without brushing the bore. This product does require some sitting time to work - 60 minutes to overnight. Will not harm modern stock finishes, but will remove older shellac, varnish or oil finishes. Odorless and contains no acids or ammonia, prevents rust after cleaning. £18.00
Wipe Out Accelerator (Liquid)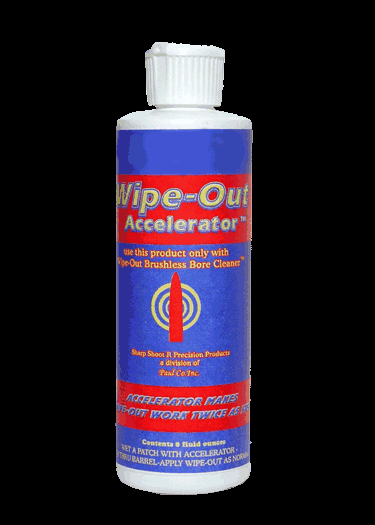 Accelerator is not a cleaner by itself, but is formulated to speed up the fouling removal reaction of Patch- Out Bore Cleaner. Thorough cleaning with Patch-Out and Accelerator can be accomplished in as little as 15 minutes, with no brushing of the bore. Do not use Accelerator with any other cleaning products, but this product is completely safe when used with Wipe-Out or Patch-Out. Available in 8 oz. flip top bottle. £17.00
Carb Out (Liquid)

Hard carbon fouling has always been a difficult cleaning problem, usually involving abrasive cleaners and lots of short-stroking the bore or throat area. Carb-Out is a very strong, carbon specific solvent which easily removes hard carbon deposits. Carb-out can also be swabbed through the barrel between relays or shot strings to lessen carbon foulding. Leaves a thin, sub micron rust preventative coating on barrel steel. Flammable Liquid. Available in an 8 oz. screw top can £15.00
Bore Tech Eliminator 16 oz

Bore Tech Eliminator™ Bore Cleaner is the patented, fast-acting, barrel safe, non-ammonia bore cleaner that has taken the shooting industry by storm. Eliminator has been proven to surpass the rigorous demands of the modern day shooter and is the cleaner of choice by shooters worldwide who demand the best. £39.00
Bore Tech Cu+2 Copper Remover 16 oz

Bore Tech Cu+2 Copper Remover™ uses a revolutionary and patented chemical technology that rapidly removes copper fouling and is 100% barrel safe, odour free and biodegradable. Cu+2 Copper Remover's cutting edge formulation is ammonia free and removes heavy copper fouling faster than the competition without the safety hazards, harmful toxicity, and offensive odours found in petro-ammonia based solvents. £39.00
Bore Tech Rim fire Blend Bore Cleaner 16 oz

Bore Tech Rim fire Blend Bore Cleaner is a specialty, cutting edge bore cleaner that is 100% barrel safe, biodegradable and easily outperforms the competition without any hazards, toxicities or odors. Rimfire Blend rapidly removes the carbon, lead and bullet wax fouling produced by Rim fire ammunition. £39.00
Brunox Turbo Spray

Highly effective and versatile maintenance spray. Displaces humidity, neutralises hand sweat and protects against corrosion. Loosens and helps remove residues inside the gun such as lead, powder tombac and nickel. Excellent penetration properties; it will be formed a very thin, viscous protection film, which does not harden (contains no silicone, no teflon, no graphite). Does not affect varnish, leather, wood, rubber, plastic and fabric. The additive TURBOLINE increases the gliding quality of all movable parts 300ml £10.00
As above but in a screw top bottle 100ml £7.20
Gun clean
Specially formulated to remove all nitro and black powder deposits. protects against further corrosion from gunpowder deposits and rusting. Disperses water and applies a protective oily film. Removes gunpowder deposits from all guns and applies a rust inhibiting film to prevent corrosion. Available in 125ml long spout tin. £3.50
GUN & RIFLE OIL TIN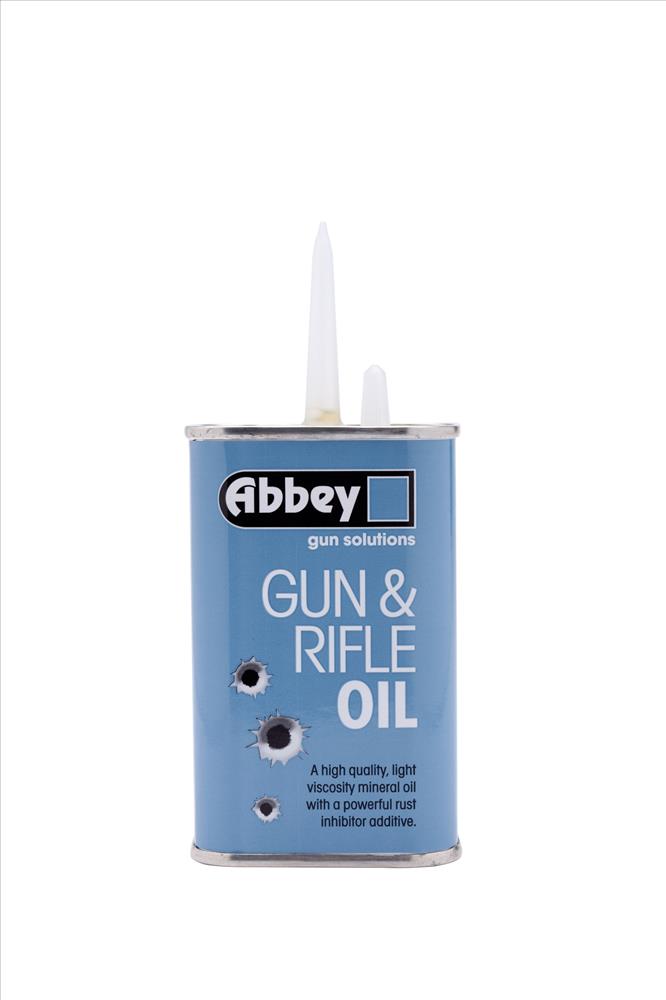 General purpose light mineral oil. Protects from rusting & corrosion. Available in 125ml long spout tin. £4.00
Gun degreasing spray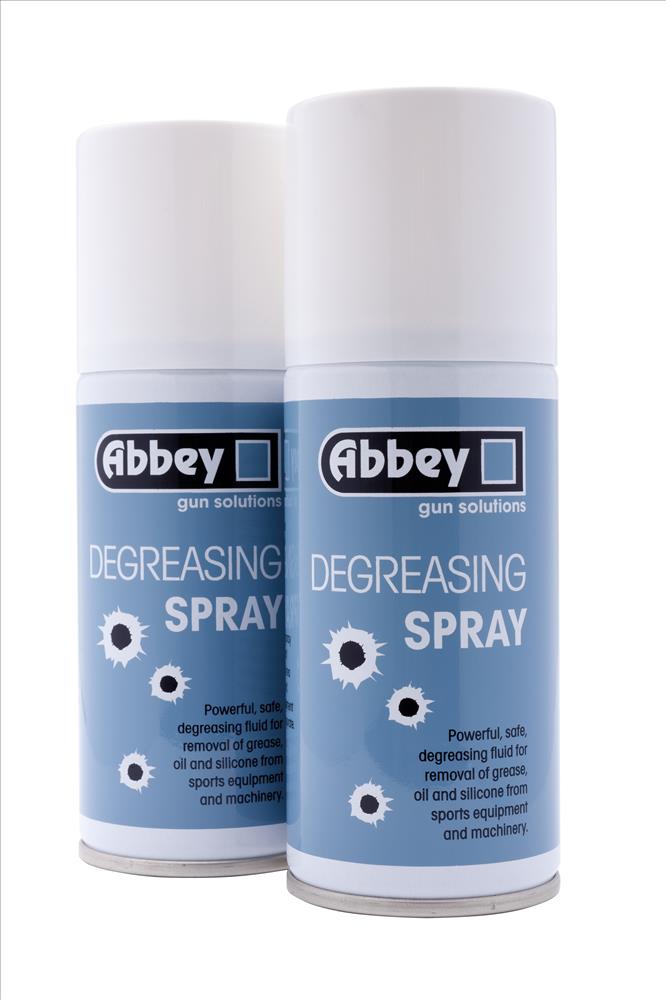 Will not harm blueing, chrome or engraving on any shotguns or airguns. Ensures complete removal of all oil and grease deposits prior to reblueing etc. Convenient and safe to use on all shotguns & airguns. Very effective at removing silicone oils and greases. Always use a high evaporation degreasing spray that does not leave a film on your barrel before re-blueing. Available in 150ml spray. £3.50
Various other cleaning products stocked including Butch's Bore shine and some KG stocked. Ask if you are after something in particular.