Ordering is easy.
Email sales@reloading.org.uk telling me what you want, I will reply giving you the total price and payment options. Mail Order minimum of £8.00 Insured p/p
Metals
Tin. 99.9% pure 250 grams = £14.00
Antimony. 99.9% pure 250 grams = £10.00
Lynman no 2 bullet casting alloy recipe.
Take 4500 grams of pure lead, 250 grams pure tin and 250 grams pure antimony.
Melt the lead at around 700F (371c) then add the tin and stir occasionally until it has melted and mixed with the lead. next add the antimony and stir. This will not melt but will dissolve into the lead/tin alloy over time, stir occasionally and flux. You may find a an oatmeal like silvery scum form on your alloy, do not skim off, this is the antimony, add flux and stir until it dissolves in the mixture.
MARVELUX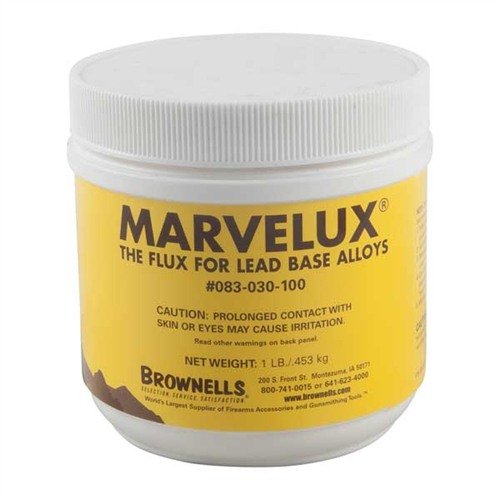 Far and away the most popular - and successful - bullet casting flux, MARVELUX has been on the market since 1971 filling the needs of knowledgeable and successful professional and hobbyist bullet casters. MARVELUX is non-corrosive to iron and steel, and does not produce fumes which can cause corrosion, as does sal-ammoniac (ammonium chloride). In fact, regular use will keep your pot free from rust! Reduces dross formation dramatically while increasing fluidity of bullet alloys, making it easier to obtain well filled-out bullets. MARVELUX is well suited to any lead alloy melt intended for casting bullets or swaging cores. Non-smoking, flameless and non-smelling. Superior to beeswax, tallow, paraffin, and other grease-type fluxes. £14.00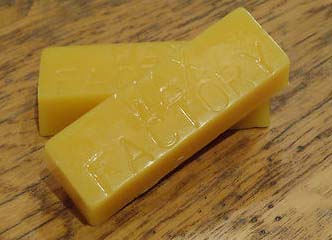 Pure Beeswax, this has been used for centuries as a fluxing agent for lead alloys, you either drop a pea size piece on to the molten lead alloy or dip the corner of the bar in to the lead alloy.
Warning
if the lead is above the flash point of the wax it will catch fire, this will not effect its performance but could burn you or anything close. It comes in approximately 1oz bars
£1.00
Lee Production Pot Four Furnace 220 Volt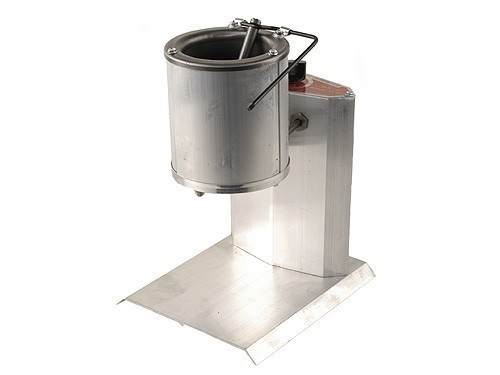 A large, deep pot with 10 pounds capacity. Infinite heat control with 500 watts of power. Melt time is less than 20 minutes. Features a large, stable base for added safety and a generous 4" of clearance under the spout to accept all brands of bullet moulds and most sinker moulds. Also features an adjustable flow valve and Lee's 2-Year warranty. Unit comes without a plug so the user can attach the 220 volt plug of their choosing to work with their 220 volt outlet. £82.00
Lee Pro 4 20 Lb Furnace 220 Volt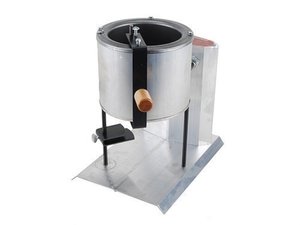 The Lee Pro 4 20 Lb Furnace is a great furnace for any bullet caster looking for a solid reliable furnace without breaking the bank. The Pro 4 features an extra-large 4" diameter pot with generous 20 lb capacity, a long life 700-watt tubular heating element to assure quick melting and rapid recovery and a remote sensing thermostat. The convenient, bottom-pour design features a micro adjustable flow control valve which can be fine-tuned with a screwdriver. The front-mounted replaceable valve spout allows instant reseating. 4" of clearance under the spout is large enough to accept all brands of bullet moulds and most sinker moulds, while the included adjustable mould guide allows the caster to fine tune mould placement. £ 120.00
Lee 4-Cavity Ingot Mould with Handle
Use this mould to cast 1/2 and 1 pound ingots. Perfect for re-melting and alloying. Wood handle stays cool. Aluminium mould is lightweight and rustproof. £15.00

Lee Lead Dipper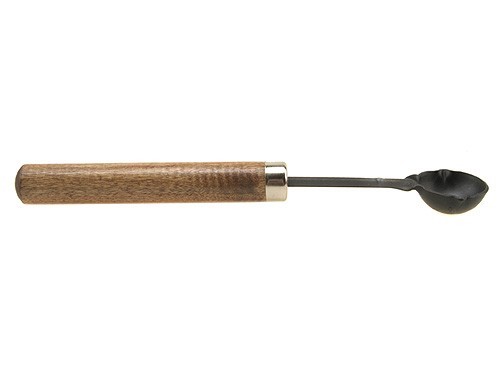 This iron dipper is a convenient size ladle for bullet casting. The hardwood handle allows the caster to use the dipper equally well from the right or left hand. Handy for skimming and stirring metal. <! wch 03-31-09--> £7.00
Forceps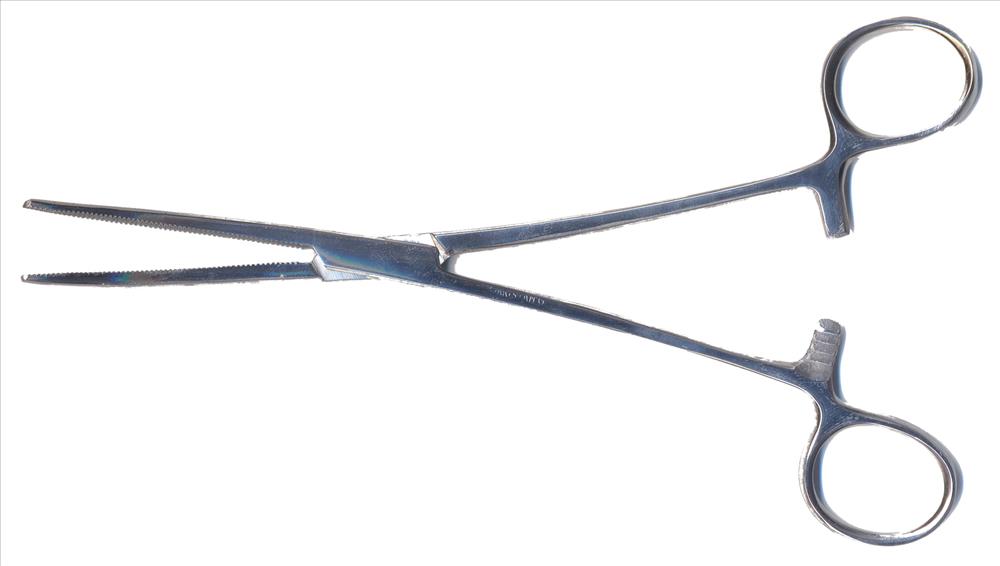 The ideal tool for picking up hot bullets fresh out of the mould, these are 8" (200mm) long and the jaws open well over 1 1/2" (36mm) enough to pick up any bullet short of a cannon ball £5.00
Bullet moulds
| | | |
| --- | --- | --- |
| Description of product | Price | Comments |
| | | |
| | | |
| Lee Bullet Mold C309-113-F | £24.00 | 30 CAL RIFLE eg 308 winchester 30/30 |
| Lee Bullet Mold 358-124-2R | £24.00 | 357 MAG, 38 SPECIAL 38 S&W |
| Lee Bullet Mold 358-124-TC | £24.00 | 357 MAG, 38 SPECIAL 38 S&W |
| | | |
| | | |
| | | |
Second Hand Reloading Equipment
Bullet molds.
All Molds are in excellent condition and in original boxes. Most have only been used once or twice
| | | |
| --- | --- | --- |
| Description of product | Price | Comments |
| | | |
| | | |
| | | |
| | | |